We are open for indoor and outdoor dining, as well as take-out and curbside pick-up! Call the #s below for take-out, or download the free ChowNow online ordering app.
Salt hill Pub in Lebanon delivers! Wednesday through Sunday noon til 8pm!
We follow enhanced safety protocols and contract tracing guidelines at the pubs. We have re-organized our dining spaces for your safety and comfort, and guests are required to wear masks when moving to/from your table or bar seat.
Let's be safe, and let's have some fun!
Lebanon
603-448-4532
Patio, Indoor & Take-Out Hours
Monday/Wednesday/Thursday: 11:30am – 9:30pm
Friday/Saturday: 11:30am – 10pm
Sunday: 11:30am – 9pm
Closed Tuesdays
*We deliver! Wednesday through Sunday, noon til 8pm*
Newport
Open for indoor dining & take-out seven days,
11am-9pm
603-863-7774
The Shanty (Newbury, NH)
Patio, Indoor Dining & Take Out Hours
603-763-2670
Monday/Tuesday/Thursday: 3pm – 9pm
Closed Wednesdays
Friday & Saturday: Noon – 10pm
Sunday: noon – 9pm
West Lebanon
Patio, Indoor Dining & Take Out Hours
603-298-5566
Monday through Thursday: 11:30am – 8pm
Friday/Saturday 11:30am – 9pm
Sun: 11:30am – 6pm
Limited edition wearables available in our store. Thanks!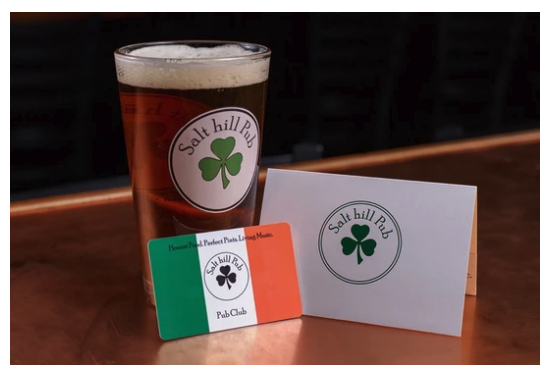 We know this has been a challenging year for many, why not brighten someone's day with the gift of Salt hill Pub!
We're offering our annual Gift Card sale ten days earlier this year… Monday, November 16th through Christmas Eve, receive a FREE $10 Gift Card for every $50 worth of Salt hill Pub Gift Cards you purchase!