Salt hill Shanty Food Menu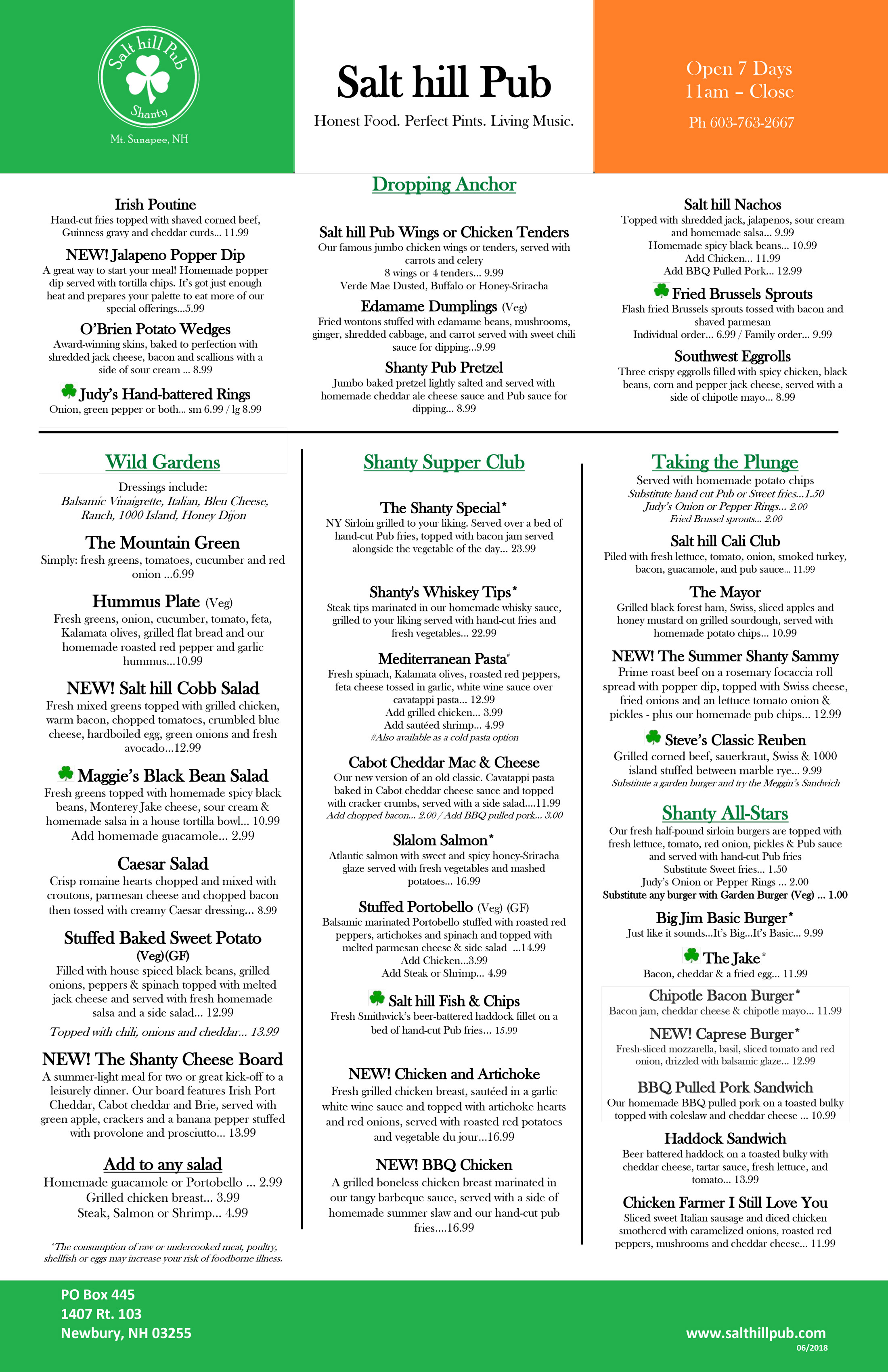 Dropping Anchor
Irish Poutine
Hand-cut fries topped with shaved corned beef, Guinness gravy and cheddar curds… 11.99
NEW! Jalapeno Popper Dip
A great way to start your meal! Homemade popper dip served with tortilla chips. It's got just enough heat and prepares your palette to eat more of our special offerings…5.99
O'Brien Potato Wedges
Award-winning skins, baked to perfection with shredded jack cheese, bacon and scallions with a side of sour cream … 8.99
Judy's Hand-battered Rings
Onion, green pepper or both… sm 6.99 / lg 8.99
Salt hill Pub Wings or Chicken Tenders
Our famous jumbo chicken wings or tenders, served with carrots and celery
8 wings or 4 tenders… 9.99
Verde Mae Dusted, Buffalo or Honey-Sriracha
Edamame Dumplings (Veg)
Fried wontons stuffed with edamame beans, mushrooms, ginger, shredded cabbage, and carrot served with sweet chili sauce for dipping…9.99
Shanty Pub Pretzel
Jumbo baked pretzel lightly salted and served with homemade cheddar ale cheese sauce and Pub sauce for dipping… 8.99
Salt hill Nachos
Topped with shredded jack, jalapenos, sour cream and homemade salsa… 9.99 Homemade spicy black beans… 10.99 Add Chicken… 11.99
Add BBQ Pulled Pork… 12.99
Fried Brussels Sprouts
Flash fried Brussels sprouts tossed with bacon and shaved parmesan
Individual order… 6.99 / Family order… 9.99
Southwest Eggrolls
Three crispy eggrolls filled with spicy chicken, black beans, corn and pepper jack cheese, served with a side of chipotle mayo… 8.99
Wild Gardens
Dressings include: Balsamic Vinaigrette, Italian, Bleu Cheese, Ranch, 1000 Island, Honey Dijon
The Mountain Green
Simply: fresh greens, tomatoes, cucumber and red onion …6.99
Hummus Plate (Veg)
Fresh greens, onion, cucumber, tomato, feta, Kalamata olives, grilled flat bread and our homemade roasted red pepper and garlic hummus…10.99
NEW! Salt hill Cobb Salad
Fresh mixed greens topped with grilled chicken, warm bacon, chopped tomatoes, crumbled blue cheese, hardboiled egg, green onions and fresh avocado…12.99
Maggie's Black Bean Salad
Fresh greens topped with homemade spicy black beans, Monterey Jake cheese, sour cream & homemade salsa in a house tortilla bowl… 10.99 Add homemade guacamole… 2.99
Caesar Salad
Crisp romaine hearts chopped and mixed with croutons, parmesan cheese and chopped bacon then tossed with creamy Caesar dressing… 8.99
Stuffed Baked Sweet Potato
(Veg)(GF)
Filled with house spiced black beans, grilled onions, peppers & spinach topped with melted jack cheese and served with fresh homemade salsa and a side salad… 12.99
Topped with chili, onions and cheddar… 13.99
NEW! The Shanty Cheese Board
A summer-light meal for two or great kick-off to a leisurely dinner. Our board features Irish Port Cheddar, Cabot cheddar and Brie, served with green apple, crackers and a banana pepper stuffed with provolone and prosciutto… 13.99
Add to any salad
Homemade guacamole or Portobello … 2.99
Grilled chicken breast… 3.99
Steak, Salmon or Shrimp… 4.99
*The consumption of raw or undercooked meat, poultry, shellfish or eggs may increase your risk of foodborne illness.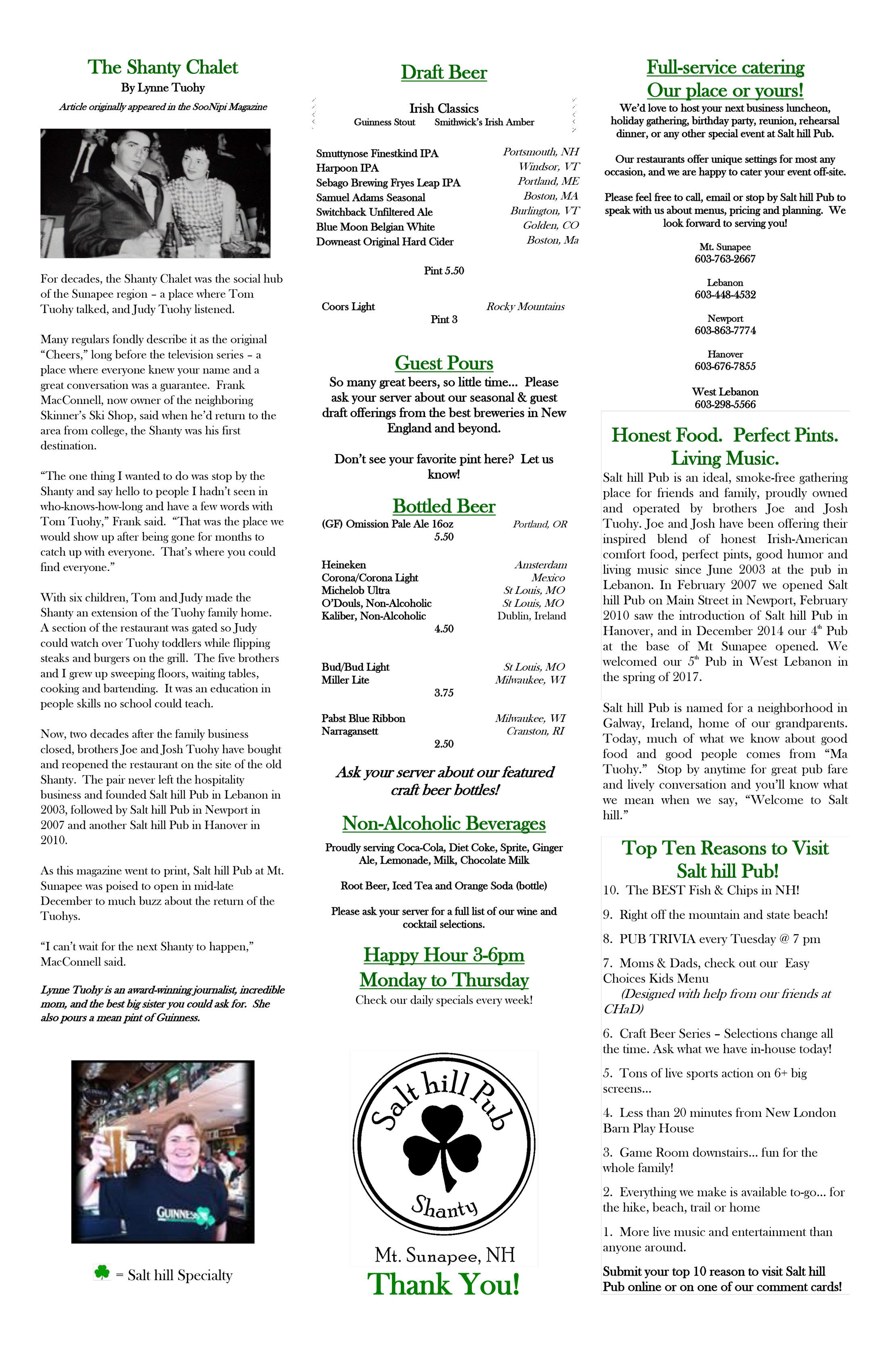 Shanty Supper Club
The Shanty Special*
NY Sirloin grilled to your liking. Served over a bed of hand-cut Pub fries, topped with bacon jam served alongside the vegetable of the day… 23.99
Shanty's Whiskey Tips*
Steak tips marinated in our homemade whisky sauce, grilled to your liking served with hand-cut fries and fresh vegetables… 22.99
Mediterranean Pasta#
Fresh spinach, Kalamata olives, roasted red peppers, feta cheese tossed in garlic, white wine sauce over cavatappi pasta… 12.99
Add grilled chicken… 3.99 Add sautéed shrimp… 4.99
#Also available as a cold pasta option
Cabot Cheddar Mac & Cheese
Our new version of an old classic. Cavatappi pasta baked in Cabot cheddar cheese sauce and topped with cracker crumbs, served with a side salad….11.99 Add chopped bacon… 2.00 / Add BBQ pulled pork… 3.00
Slalom Salmon*
Atlantic salmon with sweet and spicy honey-Sriracha glaze served with fresh vegetables and mashed potatoes… 16.99
Stuffed Portobello (Veg) (GF)
Balsamic marinated Portobello stuffed with roasted red peppers, artichokes and spinach and topped with melted parmesan cheese & side salad …14.99
Add Chicken…3.99 Add Steak or Shrimp… 4.99
Salt hill Fish & Chips
Fresh Smithwick's beer-battered haddock fillet on a bed of hand-cut Pub fries… 15.99
NEW! Chicken and Artichoke
Fresh grilled chicken breast, sautéed in a garlic white wine sauce and topped with artichoke hearts and red onions, served with roasted red potatoes and vegetable du jour…16.99
NEW! BBQ Chicken
A grilled boneless chicken breast marinated in our tangy barbeque sauce, served with a side of homemade summer slaw and our hand-cut pub fries….16.99
Taking the Plunge
Served with homemade potato chips Substitute hand cut Pub or Sweet fries…1.50 Judy's
Onion or Pepper Rings… 2.00
Fried Brussel sprouts… 2.00
Salt hill Cali Club
Piled with fresh lettuce, tomato, onion, smoked turkey, bacon, guacamole, and pub sauce… 11.99
The Mayor
Grilled black forest ham, Swiss, sliced apples and honey mustard on grilled sourdough, served with homemade potato chips… 10.99
NEW! The Summer Shanty Sammy
Prime roast beef on a rosemary focaccia roll spread with popper dip, topped with Swiss cheese, fried onions and an lettuce tomato onion & pickles – plus our homemade pub chips… 12.99
image Steve's Classic Reuben
Grilled corned beef, sauerkraut, Swiss & 1000 island stuffed between marble rye… 9.99 Substitute a garden burger and try the Meggin's Sandwich
Shanty All-Stars
Our fresh half-pound sirloin burgers are topped with fresh lettuce, tomato, red onion, pickles & Pub sauce and served with hand-cut Pub fries
Substitute Sweet fries… 1.50 Judy's Onion or Pepper Rings … 2.00
Substitute any burger with Garden Burger (Veg) … 1.00
Big Jim Basic Burger*
Just like it sounds…It's Big…It's Basic… 9.99
The Jake*
Bacon, cheddar & a fried egg… 11.99
Chipotle Bacon Burger*
Bacon jam, cheddar cheese & chipotle mayo… 11.99
NEW! Caprese Burger*
Fresh-sliced mozzarella, basil, sliced tomato and red onion, drizzled with balsamic glaze… 12.99
BBQ Pulled Pork Sandwich
Our homemade BBQ pulled pork on a toasted bulky topped with coleslaw and cheddar cheese … 10.99
Haddock Sandwich
Beer battered haddock on a toasted bulky with cheddar cheese, tartar sauce, fresh lettuce, and tomato… 13.99
Chicken Farmer I Still Love You
Sliced sweet Italian sausage and diced chicken smothered with caramelized onions, roasted red peppers, mushrooms and cheddar cheese… 11.99
Download PDF of Menu
Menu items and pricing subject to change without notice.

Note: Menu items and pricing subject to change without notice